FREE Power Bodybuilding eBook
Learn The Secrets of How to Build
More Muscle and Strength than Ever Before!
Enter your first name and a valid email address
for free instant access to the program.

How To Use Creatine
THE TRIPLE PHASE POWERED CREATINE CYCLE
WANT TO MAKE BIG MUSCULAR GAINS WITHOUT RESORTING TO ANABOLC STEROIDS?
CREATINE MONOHYDRATE SUPPLEMENTATION IS THE KEY!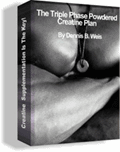 ~ You can receive INSTANT ACCESS to DOWNLOAD this program in LESS than a few Minutes! ~
This e-report reveals all the potentially revolutionary nutritional secrets of CREATINE MONOHYDRATE supplementation. You will learn the "secrets" for making it work correctly.


How to take Creatine


How much Creatine to use


The 3 "unique" cycling phases


Every-Other-Day Creatine Strategy


One-Day-A-Week Creatine Strategy
This e-report also includes:


Super Saturation Creatine Loading Chart For Men


Loading and Maintenance Chart For Women


The 3 "unique" cycle phases


Creatine "Secrets" of Pro Bodybuiiders
These ALMOST ILLEGAL "behind-closed-doors" NUTRITIONAL SECRETS will produce almost immediate and significant bodybuilding results. Order today!

This is a PDF Book, also known as a digital book,
and there is no shipping charge because you download it instantly after you order!
You then have the option of printing it out on your computer printer.







© 1998-2017 Power-Bodybuilding.com