FREE Power Bodybuilding eBook
Learn The Secrets of How to Build
More Muscle and Strength than Ever Before!
Enter your first name and a valid email address
for free instant access to the program.

How To Build Huge Arms
Neural One-Day Blitz System
"Add 1/2 Inch in One Day"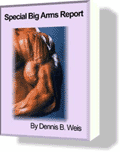 ~ You can receive INSTANT ACCESS to DOWNLOAD this program in LESS than a few Minutes! ~
ADD up to ONE-HALF INCH of muscle on the arms in one day? Believe it or not . . . it works!
Upper arm size and development is one of the most popular (if not the most popular) of all muscle groups among "iron game" enthusiasts. It is no small wonder that we are constantly looking for that "secret exercise" or (even more exciting) a "secret routine" that will increase upper arm size dramatically.
Look no more.
The SPECIAL HUGE ARMS REPORT/Neural One-Day Blitz System is your "gateway" to bigger arms, by as much as 1/2 inch in 24 hours. This system is designed to cut out all the bulls**t and go straight for the jugular.
The uniqueness and pure genius of the Special Huge Arms Report is how quickly you get results. Adding 1/2 inch to your arms in one day will be an exciting challenge. Those previous frustrating and boring moments of shooting for a measly 1/16th of an inch on your upper arms will fade into the past.
You have to fight for big arms, and the 16 Stepping Stones revealed within the pages of the Special Big Arms Report will give you all the edge you need to accomplish this goal.
Some of the results-producing training and nutritional techniques you'll learn about in the 16 Stepping Stones will give you the weapons you need mentally and physically to win the Big Arms race. You'll learn about such topics as:


The Innovative 1 & 2 Rep System


Best Core Growth Exercises


19 Super-Intense Shock Training Arm Blast Routines


The Manual Overspeed Rep Factor


Hourly Protein Pump (Feeding)


Mind Power Doctrine of an Iron Warrior - You will learn how to harness a tidal wave of mental energy to get you through the commando-tough workouts.


More!
The Special Big Arms Report includes a huge addendum that features very necessary info on Elite Exercise Mastery Descriptions, Muscle Meal Recipes, Strength Chart, and a FREE BONUS "Super-Calves" Report.

Brother! You've never seen anything like this definitive "no fear of failure" Big Arms Report for adding 1/2 inch to the arms in one day. This system has proven effective for 89% of the Iron Game enthusiasts in private gyms across the country and in Europe.

The Special Big Arms Report/Neural One-Day Blitz System is the most dynamic and unorthodox arm training system available today for adding 1/2 inch to the arms in one day.

Why wait? Make the next 24 hours the most productive ever in arm gains. Order NOW!

This is a PDF Book, also known as a digital book,
and there is no shipping charge because you download it instantly after you order!
You then have the option of printing it out on your computer printer.







© 1998-2017 Power-Bodybuilding.com