FREE Power Bodybuilding eBook
Learn The Secrets of How to Build
More Muscle and Strength than Ever Before!
Enter your first name and a valid email address
for free instant access to the program.

THE JETTISON TECHNIQUE
NEW! ADD INCHES TO YOUR ARMS & SHOULDERS!
SOLID NATURAL MUSCLE FAST!
WITHOUT ANABOLIC STEROID DRUGS!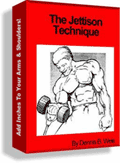 ~ You can receive INSTANT ACCESS to DOWNLOAD this program in LESS than a few Minutes! ~
This comprehensive and definitive manual contains explicitly calculated, NEW, state-of-the-art training methods to help you add natural muscle. Within the pages of THE JETTISON TECHNIQUE, I unveil an innovative dual-resistance training system that can't help but deliver a Super Mega-Pump to your muscles.
I don't care what segment of the Iron Game fraternity you represent -- hard gainer, genetic superior (champion), and/or anabolic steroid user -- you're going to become bigger, thicker, and stronger by implementing the powerful JETTISON TECHNIQUE into your training regimen. Highlights in this breakthrough manual include:


Unique Latex Cable/Free Weights Technique


25/25 Giant Cycle Workout


25/25 Reverse Giant Cycle Routine


Technique Emphasis System
THE JETTISON TECHNIQUE is logical, comprehensive, and purposely presented to be learned quickly and easily with as little fuss as possible. Prepare yourself for one of the most dramatic and powerful, super-intense workouts you will ever experience for stimulating explosive muscle growth.

The closely guarded natural bodybuilding secrets contained within the covers of THE JETTISON TECHNIQUE can be yours. Get the results all the others will miss. Order today!

This is a PDF Book, also known as a digital book,
and there is no shipping charge because you download it instantly after you order!
You then have the option of printing it out on your computer printer.







© 1998-2017 Power-Bodybuilding.com