FREE Power Bodybuilding eBook
Learn The Secrets of How to Build
More Muscle and Strength than Ever Before!
Enter your first name and a valid email address
for free instant access to the program.

"Chuck Sipes Super-Seminar"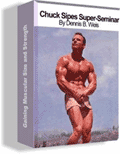 ~ You can receive INSTANT ACCESS to DOWNLOAD this program in LESS than a few Minutes! ~
The late Chuck Sipes was a bodybuilder and IFBB Mr. America, Mr. Universe, and Mr. World winner, and Mr. Olympia competitor back in the 1960s.
The Chuck Sipes Super-Seminar report reveals in his own words how he prepared for and won the 1968 IFBB Mr. World title. You will marvel as Chuck explains his revolutionary training and nutritional philosophies that allowed him to obtain his best gains ever in titanic size, shape, and brazen muscularity.
Chuck attained a peak condition where, at 5 feet 9-1/2 inches, he weighed 220 pounds. His measurements were: arms, 19-1/2 inches; chest, 50 inches; waist, 32 inches; thighs, 25-1/2 inches; calves, 18 inches.
This veteran of the Iron Game was enormously strong and, at a bodyweight of 220 pounds, could bench press 570 pounds (raw, no bench shirt, etc.), perform full squats with 600 pounds, and do barbell curls with 250 pounds.
You will learn in detail how this IFBB professional packed on muscle mass, power, and cuts the natural way, with the most dramatic, realistic, results-producing Double Pyramid and Support Training ever devised (even to this day, nearly 4 decades later) to promote the ultimate in super size and strength.
Experience a Golden Era of bodybuilding as Chuck Sipes, a great champion of yesteryear, reveals his pro bodybuilding strategies to build muscle. This advanced "Chuck Sipes Super-Seminar" is fast becoming a collector's item. Order your copy today!
This is a PDF Book, also known as a digital book,
and there is no shipping charge because you download it instantly after you order!
You then have the option of printing it out on your computer printer.
© 1998-2017 Power-Bodybuilding.com